Mixed Box full of 12cm (4,7 inch) gingerbread hearts with various phrases, colors and decorations
available in the variants 1, 10, 15, 20, 35 or 70 hearts per box
The perfect present for friends, family members, boy- and grildfriend. Excellent for decoration, partys, events and all ceremonies.
BBD: 24 months from date of manufacture

The classic in different colors and decorations

Size: about 12 cm x 12 cm

Approximately 80gr. each heart - incl. neck strap

Individually wrapped in foil with neck strap

with variant 1er cardboard the saying from the following selection is chosen randomly

with variant 35er and 70er cardboard sayings can occur twice / more times
The following sayings can be included:
Drück Mich, Du bist süß, Engelchen, Frechdachs, Goldstück, Hab dich lieb, Hasimausi, Herzblatt, Herzerl, Herzilein, Ich mag Dich, Kleine Hexe, Knuddelbär, Küss mich, Lausbub, Mausetiger, Mein Bärchen, Mein Engel, Mein Glückstern, Mein Hase, Mein Liebling, Mein Schatz, Meine Zimtschnecke, Prinzessin, Pupsochse, Schatzi, Schmusekatze, Schnuckelputzi, Süße Maus, Süßer Spatz, Sweety, Teufelchen, Traumfrau, Traummann, Zaubermaus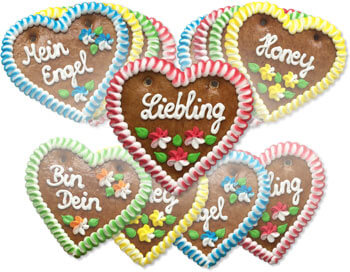 Best before: 24 Months after Production
New:
You would like to get a individual Gingerbreadheart for your wedding, birthday party, valentins day, eastern, october fest / oktober fest, christmas, anniversary, give away, marketing or other holidays?