Witch house kit incl. Decoration accessories - built approx. 37x37x40cm
The giant witch house to build yourself in the complete set comes already including all the craft accessories that are needed to get started right away with the Christmas crafting fun. Included in the set are the components for the gingerbread house, the ready-dosed individually packed components for mixing the frosting and a diverse selection of edible decorative elements for decorating.
And this is how it is done: Mix the frosting and then attach the individual gingerbread parts to each other according to the construction instructions. Once the house is ready you can decorate it at will.
Easy to set up and decorate!
All information at a glance:
Gingerbread witch house kit, size XL
House built about 37x37x40cm
Weight: about 4 kg
Incl. complete decoration accessories
Packaging: Carton
BBD: 24 months after production
Contains the following decoration accessories:
1x 500g frosting powder (in individually packaged components)

Powdered sugar
Protein powder

1x Food coloring (blue, green, yellow, red)
4x

Piping bag

1x Colorful chocolate pieces
12x Colorful gummy bears
1x 400g Colorful mini gingerbread figures
1x Witch house sugar decoration
Click here for assembly instructions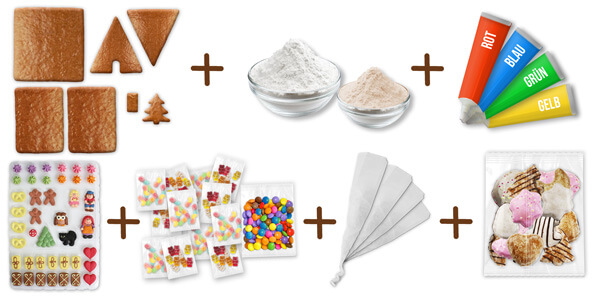 For the sake of the environment, we provide you with the construction instructions as a free PDF.