Gingerbread house kit for building and decorating - complete set
The gingerbread house do-it-yourself kit comes with accessories so you can get started right away: the gingerbread pieces, the icing powder (ready-made in individual components for mixing) and the edible decoration accessories.
Simply mix the individual components of the icing together, attach the gingerbread pieces to one another with icing according to the assembly instructions and apply the desired decorations according to your own ideas. Your self-built and decorated gingerbread house is ready.
Easy to get to the fairytale gingerbread house!


All information at a glance:
Gingerbread house kit, size L
House built about 17x17x18cm
Weight: about 1110g
Incl. complete decoration accessories
BBD: 24 months after production
Contains the following decoration accessories:
1x 250g frosting powder (in individually packaged components)

Powdered sugar
Protein powder

2x

Piping bag

1x Colorful chocolate pieces
9x Colorful gummy bears
1x Witch house sugar decoration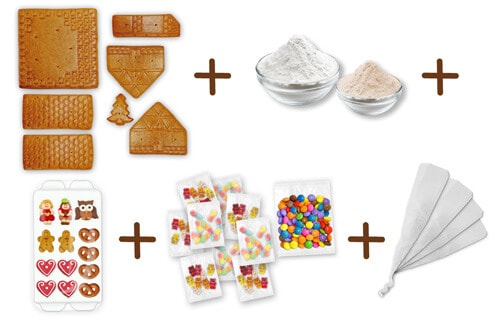 For the sake of the environment, we provide you with the construction instructions as a free PDF.